Description
Size:

Indoor Dog Bed – Large
Your furry friend deserves a bed just as plush as yours so he can cuddle up close to you without hogging yours! This custom bed is super comfortable for your dog to snuggle up on and durable enough for playtime! Designed with removable covers, you can easily wash the exterior so your room stays fresh! Available in two sizes, choose a size and design that is perfect for your pooch and coordinates with your home decor.
---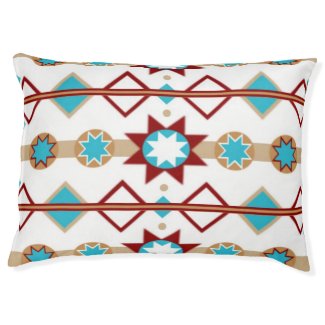 [cp_3d_button title="Customize It" align="center" size="small" background_color="#edab11″ font_color="#000000″ link="[cp_3d_button title="Buy Now" align="center" size="small" background_color="#edab11″ font_color="#000000″ link="http://www.zazzle.com/native_american_pattern_large_dog_bed-256938507142418869?view=113936576020946831&rf=238624306723262355″ newtab="true"]Buy Now[/cp_3d_button]
---
Dimensions: 30" x 40" (large).

Large beds are suitable for medium breeds.

Washable covers – features a concealed zipper that allows you to easily take off the cover and wash it anytime.

Top made with 100% polyester fleece, bottom made with 100% duck canvas.

Fill contains 100% polyester.

Machine wash separately, cold water, gentle cycle, mild detergent, tumble dry low heat, do not bleach.

Made in USA.
---
Other Products [pizazz store=norman888 keywords=gifts thumbsize=100 rows=3 columns=4]
Listing ID: 64755711ad04e7b1
20% Off Serving Trays
Limited Time! Enter code: SERVEINSTYLE at checkout in the "Coupons/Gift Certificates" box
20% of the serving tray net sale price will be deducted when one or more qualifying serving trays are purchased. The coupon code SERVEINSTYLE must be entered at checkout to receive this offer. The net sale price is the price of the product (excluding shipping and taxes). Offer is valid through March 31, 2015 11:59pm PT.
All images & content featured on our Website www.buddhan.net are copyrighted and owned by the individual Designer and Website Owner. ©2017 Buddhan™ / Inc. All rights reserved